Row over business rate rebate scrap call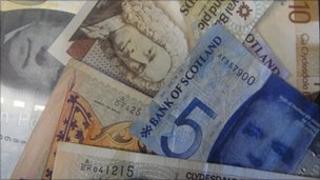 The Scottish Trade Union Congress has come under fire for suggesting a rate rebate scheme for small businesses should be scrapped.
The STUC said the "expensive" Small Business Bonus Scheme was not having the desired effect on growth and jobs.
But the Federation of Small Businesses in Scotland (FSB) said abolishing the scheme would see rates bills for more than 85,000 firms rise steeply.
The initiative, launched in 2008, means many small firms pay reduced rates.
The STUC has previously attacked the scheme but this time it said it had official figures to back its position.
'Extravagant' claims
STUC general secretary Grahame Smith said STUC analysis of figures from the UK Department for Business Innovation and Skills indicated the performance of Scotland's small businesses relative to their counterparts in England, Wales and Northern Ireland had deteriorated since the scheme was introduced.
He said this was despite the "extravagant" claims of the initiative's "many vocal advocates".
He added: "It is simply not having the desired effect on growth and jobs.
"The STUC is calling for further research to determine the full impact of the scheme and for future funding to be focused in areas such as the Scottish Investment Bank and research & development incentivisation.
"If significant sums of money are being spent in the name of economic development, it is only fair to expect the investment to genuinely expand the capacity of the Scottish economy to grow in the longer-term."
Colin Borland, the FSB in Scotland's head of external affairs, said: "It is amazing that the STUC can produce a report on small businesses and business rates without apparently gathering evidence from a single business or talking to a single small business owner.
"The small business story since the credit crunch has been one of rising overheads, late payment and declining footfall. Survival is the key and our members in communities across Scotland tell us the small business bonus has made a critical difference.
"With the economy on a knife-edge and a quarter-of-a-million Scots on the dole, now is not the time to be debating whether we should impose a take hike on our smallest businesses."