Forth Ports sells Ocean Terminal shopping centre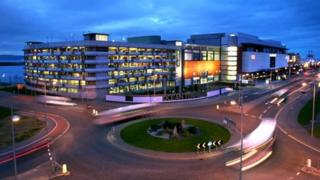 Forth Ports has announced the sale of its flagship shopping centre, Ocean Terminal, in Leith.
The 420,000 sq ft centre was bought by real estate investor Resolution Property for an undisclosed sum.
Forth Ports put the centre on the market in June as it developed a new masterplan for its gateway port at Leith.
Forth said it planned to use the sale proceeds to invest further in its ports business.
It currently owns eight commercial ports in the UK, including six on the Forth Estuary and the Port of Dundee on the River Tay.
'Valuable asset'
Forth Ports chief executive Charles Hammond said the company believed there was "significant potential" for Forth to develop its ports business.
He said: "As such, while Ocean Terminal is a valuable asset, it is clear that its future will be better served under new ownership and we are delighted that it has been acquired by a new owner with the retail pedigree of Resolution."
Forth will work with Resolution to promote and bring forward the development of the nine-acre Waterfront Plaza site that fronts the centre, forming part of the wider harbour at Leith Docks in Edinburgh.
Forth's current master plan allows for development comprising more than one million sq ft of commercial, leisure, retail and Class 4 business space on Waterfront Plaza.
Mr Hammond added: "We will work with Resolution to ensure that the potential of Ocean Terminal, Waterfront Plaza and the wider harbour area as a whole is fully realised."
'Significant addition'
Ocean Terminal, which celebrated its 10th anniversary in 2011, has a wide range of shops and restaurants as well as a 12-screen Vue Cinema.
Resolution partner Nigel Robson said: "Ocean Terminal shopping centre is a significant addition to our European retail portfolio.
"Leveraging off its current success and the affordable rents, which significantly undercut other retail locations in Edinburgh, we are confident that we can take Ocean Terminal forward and further enhance the retail and catering offer."
In November, Forth Ports announced it had joined forces with Scottish Enterprise and Edinburgh City Council to develop a new masterplan for Leith.
Under a new Memorandum of Understanding (MoU), the partners agreed to conduct technical and feasibility studies to help form future plans for the port.
First Minister Alex Salmond said at the time that the agreement signalled "the dawn of a new era" for Leith.