Scottish construction growth 'to return' in 2013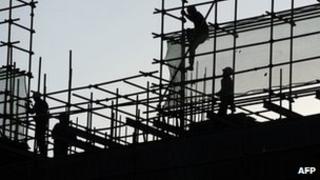 The Scottish construction industry will continue to contract this year but is expected to return to growth in 2013, according to a new report.
The Construction Skills Network (CSN) also suggested employment was set to grow at an annual average rate of 1.1% between 2012 and 2016.
This was almost twice the rate of the UK as a whole (0.6%).
Strongest growth in Scotland was anticipated in the infrastructure sector.
An annual average rate rise of 4.7% was expected, with a raft of transport projects to be taken forward, including the Forth Road Crossing and dualling of the A9 between Perth and Inverness.
The CSN report - compiled by CITB-ConstructionSkills, the Sector Skills Council and Industry Training Board - estimated a decline of 3% in output last year in real terms.
It argued weakening economic conditions in the second half of 2011, led by debt problems among eurozone countries, meant activity had been depressed in both the private and public sectors.
Prospects 'muted'
Output this year was predicted to decline by 5% as prospects for the private housing, industrial and commercial sectors remained muted in the short-term.
The report said public expenditure cuts were also expected to hit the public housing and non-housing sectors hard.
Graeme Ogilvy, director for ConstructionSkills in Scotland, said: "This year's CSN report points towards some positive long-term growth trends compared to the rest of the UK, but it remains clear that conditions will remain challenging in the short-term, which will not be welcome news for firms and workers.
"In these challenging conditions where youth unemployment is a particular problem, it is vital for firms to maintain a competitive edge and to continue to invest in training and apprenticeships so that they ensure they are prepared for the projected return to growth next year."
He added: "I am pleased that the Scottish government has committed the public sector to provide training and apprenticeship plans in public contracts.
"However, in order to boost employment prospects beyond 2012, it's imperative that planned infrastructure projects start as soon as possible.
"Overall, the long term picture looks promising and the construction sector has the potential to create an economic stimulus to help return the Scottish economy to growth."