CBI Scotland survey: Business confidence 'withers'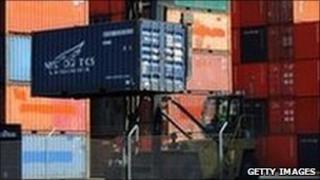 Scottish industry expects to scale back investment in 2012 as business optimism has "withered" to its lowest level for three years, according to CBI Scotland.
Its latest Industrial Trends Survey suggested new orders dipped over the past three months, remaining negative for the third successive quarter.
Expectations for the next quarter are at their weakest since April 2009.
CBI said confidence was hit by concerns over economic conditions abroad and uncertainty about future demand.
This was causing firms to scale back their plans to invest in innovation, training, buildings and machinery.
It was the first time in three years that a majority of firms reported their intention to reduce expenditure across all four investment indicators.
The survey covered sectors such as textiles, chemicals, food and drink, metals and metals manufacturing, mechanical, electrical and vehicle engineering.
Numbers employed eased back during the last quarter and were expected to remain subdued over the next three months.
'Disappointing' results
Firms also reported that concerns over the ability to raise external finance to fund activity and investment had diminished further.
CBI Scotland director Iain McMillan said: "There is no getting away from the fact that this is a further set of disappointing results.
"A weak economy and worries over the eurozone - our biggest export market - are affecting business confidence, and this is leading firms into shrinking their investment plans.
"A clear and orderly resolution to the eurozone crisis will be essential to prevent further effects on both domestic manufacturing and the wider economy, and to lift business confidence. "
Mr McMillan added Scottish ministers could assist by taking a range of steps including providing pump-prime funding to help establish more direct air connections to key overseas business destinations and hubs, in order to make it easier for Scots manufacturers to access new markets.
Responding to the survey, the Scottish government said it recognised a need for further sustained activity to support economic recovery, and was "working tirelessly" to secure new investment, increase Scottish exports and give businesses in Scotland the support needed to realise their ambitions.
A spokeswoman added: "We are using all available powers to stimulate growth and job creation in Scotland and we need the UK government to follow our Scottish example and embrace a 'Plan MacB' approach for the UK economy and bring forward capital investment to support growth and jobs."