Forth Ports acquires container services firm for £95m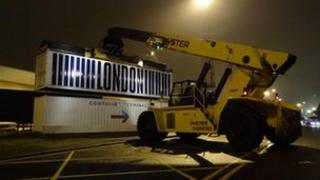 Forth Ports has taken another major step in its plans to develop its ports business by acquiring a major container services firm.
Forth, which already had a 33% slice of Tilbury Container Services (TCS), bought the rest of the firm for £95m.
TCS is located on the River Thames within the Port of Tilbury, which is wholly owned by Forth.
Edinburgh-based Forth said the acquisition underpinned its "portcentric strategy".
Forth, which is owned by Otter Port Holdings, plans to combine its existing Tilbury short sea container terminal with the TCS deep sea facility to create a new business branded London Container Terminal.
The combined terminal will handle close to 500,000 containers and make it the third largest single container operation in the UK.
Forth has been a one third shareholder in TCS since 1998, along with partners DP World and AB Ports.
TCS handled about 314,000 containers in 2011, up 2.4% from 2010 volumes.
'Portcentric strategy'
Forth Ports chief executive Charles Hammond said: "This is an important acquisition and a major step forward in our plans to grow and develop our ports business.
"We believe that stronger links between our container and distribution customers will provide benefits in the supply chain for them and further underpins our portcentric strategy."
Earlier this week Forth announced the sale of its flagship shopping centre, Ocean Terminal, in Leith.
The 420,000 sq ft centre was bought by real estate investor Resolution Property for an undisclosed sum.
Forth said it planned to use the sale proceeds to invest further in its ports business.
It currently owns eight commercial ports in the UK, including six on the Forth Estuary and the Port of Dundee on the River Tay.