Founder of Aberdeen wind firm SeaEnergy steps down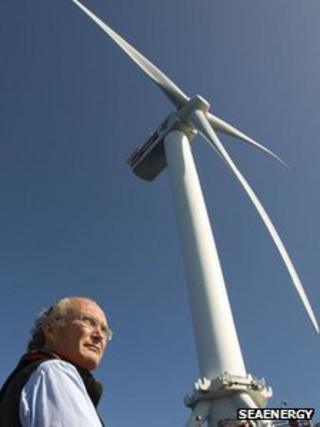 The founder of offshore wind company SeaEnergy is to step down, following a change in the firm's strategic focus.
In a statement, SeaEnergy said Steve Remp would stand down as executive chairman after 34 years with the firm.
SeaEnergy said it would focus on its service businesses, after a history of disputes with Montenegrin officials in exploration ventures off Montenegro.
Mr Remp will receive compensation of £503,000 and be given non-core group oil and gas interests in Montenegro.
The Aberdeen-based company said following the disposal of its offshore wind unit, SeaEnergy Renewables, to Spanish oil giant Repsol in June 2011, the company had been focusing on developing new ventures in the energy sector.
It concluded SeaEnergy should concentrate on building and acquiring complementary service businesses, including the provision of operations and maintenance to offshore wind farms and vessels for these services.
In its statement, the board said the company had historically held interests in exploration offshore Montenegro, which had been the subject of disputes with the Montenegrin government for a number of years.
It continued: "All of the group's efforts to resolve the disputes and restart exploration in the area have to-date been unsuccessful and the group has fully expensed all of its past costs in the region.
'Refined strategy'
"The board believes that ongoing disputes of this nature and the related costs will detract from the refined strategy which has been adopted.
"Consequently the board has agreed to transfer the subsidiaries which hold these interests to Gasmonte Limited (a company owned by Mr Remp) for nil consideration."
It added: "Mr Remp has expressed interest in funding the pursuit of these opportunities further and, although he will have no obligation to do so, the group will be entitled to participate in any future success arising from these historic interests up to maximum of $20m.
"This allows the group to retain a significant potential upside whilst avoiding the management time and ongoing costs involved with trying to resolve the disputes and advance the opportunities."
The board said Mr Remp would step down as executive chairman with immediate effect.
He is being replaced by directors David Sigsworth, who takes on the role of non-executive chairman, and John Aldersey-Williams, who becomes acting chief executive.
The board added it was well advanced in the recruitment process for a new chief executive.
Mr Remp said: "I am proud to have founded, built and led SeaEnergy, and Ramco before it, over more than three decades, and to have achieved some exceptional successes, including building partnerships with some of the world's leading companies.
"I wish the new team every success and look forward to taking forward a number of exciting opportunities."