Expert support move for offshore wind supply firms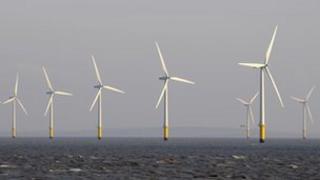 A £900,000 initiative is being launched to support rapid growth in the developing offshore wind supply chain.
The expert support programme aims to help hundreds of Scottish firms capture a share of future investment in the emerging industry.
The initiative is being announced by Scottish Enterprise chief executive Lena Wilson at Scotland's largest offshore wind conference in Aberdeen.
The programme includes one-on-one support for firms in the sector.
The announcement comes as a new report on Scotland's renewable energy sector suggested it would continue to grow in value this year in the face of economic uncertainty.
PricewaterhouseCoopers (PwC) said the growth would follow a worldwide trend that has seen the value of mergers in the sector rise by 40%.
Deal values increased from £24.3bn in 2010 to a record £34.4bn in 2011.
Ms Wilson said: "Scotland has the potential to boast a thriving supply chain of companies across the main stages of offshore wind.
"Our analysis suggests there are more than 750 companies which already supply products and services to the market or who have the ambition to diversify into offshore wind."
Specialist support
She continued: "This new initiative is designed to offer specialist support to help those Scottish businesses with the potential and ambition to secure as much of this exciting new industry as possible.
"Many of our existing strong industry sectors such as oil and gas, engineering, aerospace and construction have transferable skills and expertise for the offshore wind market.
"With construction of offshore wind farms around the UK imminent, we want Scottish businesses to maximise the economic opportunity."
Recent analysis conducted by Scottish Enterprise suggested about 5,500 offshore wind turbines were likely to be constructed in waters around the UK coast over the next decade.
Ms Wilson added: "The economic prize is high to those who are off the starting blocks quickly, and we hope this new initiative will help ensure Scotland is ready and able to support the offshore wind industry."
The initiative will be supported by the European Regional Development Fund, which has awarded a grant of £582,000 to Scottish Enterprise.