Demand 'up' for Glasgow and Edinburgh office space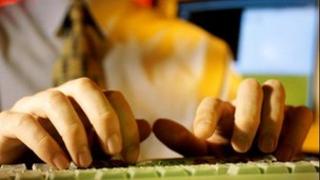 Demand for office space rose sharply in Scotland's two largest cities last year, according to a new survey.
The report by search service officebroker.com suggested demand rose by 19% in Edinburgh and 14% in Glasgow.
The report also indicated a rise in the average price of workstations in both cities as a result of an influx of larger firms taking space and forcing up prices.
Businesses were also found to be demanding larger space.
The survey suggested firms increased their average office requirements by just under two workstations when compared to the previous year.
The average price per workstation in Edinburgh increased by 28% to £315, making it the most expensive city centre location for serviced office space outside of central London.
Office space in Glasgow also saw a price increase, rising by 21% year-on-year to an average of £206 per workstation.
Chris Meredith, UK head of sales at officebroker.com, said: "Scotland's leading cities appear to remain attractive locations for business, with the growing number of larger firms entering the market indicating that flexibility is a core concern for businesses of all shapes and sizes.
"The activity recorded across Edinburgh and Glasgow reflects the changing needs of businesses during uncertain times."