Independent press regulator urged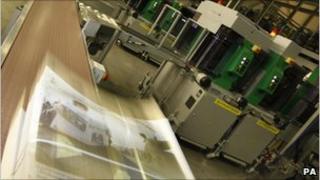 A new independent press regulator should be set up to secure better journalism, according to a report.
The Carnegie UK Trust said the role should be independent of both government and the newspaper industry.
It argued a new regulatory framework should be voluntary but with "very strong incentives for joining".
The report was written by Blair Jenkins, a former head of news and current affairs at BBC Scotland and STV who is now a fellow of the trust.
It argued only news outlets which participated in the suggested framework would obtain the benefits of press accreditation and recognition - the arrangements which give journalists privileged access and facilities at important places and events.
But the report stressed that "stronger or smarter regulation" was only one of a number of levers needed to secure better journalism.
It stated: "The work of regulation is largely that of eliminating various forms of bad behaviour, whereas the public interest also requires positive actions in support of good journalism. Tougher regulation on its own is not enough."
'Better journalism'
The report also called for a new industry-wide ethical and editorial code to encourage better journalism in the digital age.
It suggested a new code would give much clearer guidance and set high standards for journalists in newspapers, broadcasting and online news services.
Its other recommendations included maintaining or strengthening public service broadcasting to ensure that not all news ventures were commercially driven, and extending the availability and take-up of high-speed broadband to enable universal access to a wide range of digital news.
The report also suggested a renewed emphasis in journalism education and training on professional ethics, including a clear commitment to understanding and upholding the public interest.
Mr Jenkins said the public should have higher expectations of journalists, and journalists should have higher expectations of themselves.
He said: "Journalism is based on trust and integrity and that needs to be reflected in a new industry-wide code of conduct.
"It should be inspiring and authentic for all journalists, but also sufficiently clear and reassuring for the public who depend upon those journalists for reliable news and information.
"The independent regulatory system proposed for the press would strike a new balance."
He added: "You only get the many benefits of being a serious news operation if you also live up to the obligations. If you want the accreditation that gets you special access to the big stories, you have to sign up to decent and reasonable standards."
The report will be forwarded as a formal submission to the Leveson inquiry into media ethics.