Salmon firm to open 10 new farms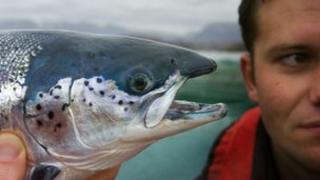 The Scottish Salmon Company has announced plans to open 10 new farms along the west coast, creating 100 jobs over the next five years.
It is part of a £40m investment plan to increase farming capacity and develop its harvesting, processing and freshwater operations.
About half the jobs are planned for the Western Isles, with the others throughout the Highlands and Argyll.
The Edinburgh-based firm operates from more than 50 sites.
In 2010 the Norwegian-owned business recorded an annual turnover of £92.4m.
In the past two years, the group has more than doubled staff numbers from 160 to 380 and invested £30m on developments such as refurbishing the Marybank processing facility and acquiring West Minch Salmon.
The Scottish Salmon Company chief executive Stewart McLelland said there was a "strong and growing demand in the marketplace" for salmon and "to satisfy this, we require to develop our farming and processing capability".
He added: "People are key to our vision for expansion. We are keen to bring talent into our business, developing skills and experience to support our growth plans and that of the overall industry."