Celtic FC announces big profits fall for second half of 2011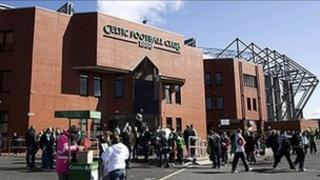 Celtic Football Club has announced a big fall in pre-tax profits for the second half of 2011.
Interim financial results show the club made £180,000 compared to a £7m profit at the end of the previous year.
Cash from player sales also fell from £13.2m to £3.1m. Bank debt was reduced from £9m to £7m.
Chairman Ian Bankier said Celtic invested £4.4m in the first half of the season, with further acquisitions in last month's transfer window.
"We can confidently say that the strength and depth of the player pool now available to the football manager is better than it has been for several seasons," he said.
"As a result, we have been able to enjoy the virtuous trilogy of being able to keep our best players, build and develop significant value in our player pool, and see improvements in football performance."
'Very challenging'
Pre-season matches and sales of merchandising have been described as "very challenging", in line with other high street spend, as fans' spending power is squeezed.
The lower revenue from those categories was offset by a 3% rise in turnover as Celtic had a run in European competition.
Bank debt stands at £7.05m, which is around £2m less than at the same time last year.
Mr Bankier, who took over as chairman in the autumn, paid tribute to manager Neil Lennon.
He said he had faced a run of poor results at the start of this season in a "calm, professional and resolute manner, and with unshakeable self-belief, he has put us in a strong position to challenge for all three domestic trophies".