Homebuyers 'still offering less' than asking price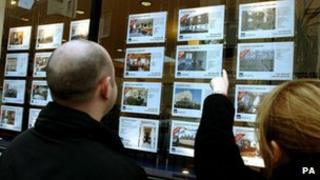 Homebuyers are still offering less than the advertised cost of a property despite more sellers dropping the asking price, according to a survey.
The s1homes Scottish house price report suggested the average property sold for about £9,000 less than the asking price in the three months to December.
The average asking price fell by 3.33% to £166,494 but sales figures achieved also fell from £163,068 to £157,174.
The £9,000 difference was the same as the figure for the previous quarter.
Most regions saw an increase in the reality gap because the drop in average selling prices outstripped the fall in asking prices.
The Glasgow and Dunbartonshire area was the only s1homes area to see the gap narrow, as the average asking price fell by more than the selling price.
In Ayrshire, the gap increased - even though the asking price fell by 1.68% to £148,688 - because the average selling price fell further to £128,229.
Edinburgh was the only region where the reality gap disappeared as selling prices overtook asking prices.
Mark Smith, managing director of s1homes, said: "It would appear that while sellers are being less optimistic about the prices they can achieve, buyers are still able to come in with offers under the asking price in these market conditions."