House sales up as stamp duty holiday set to end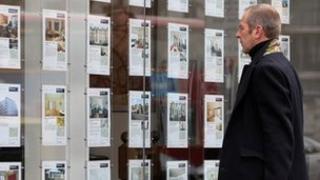 Scottish house sales edged up in January as first-time buyers looked to beat the stamp duty holiday which is set to expire, according to surveyors.
The Royal Institution of Chartered Surveyors (Rics) reported a slight rise in newly agreed sales last month.
The 1% stamp duty rate on properties worth between £125,000 and £250,000 is being reintroduced on 24 March.
Some surveyors reported this had produced an increase in activity at the lower end of the market.
But Rics said the end of the stamp duty holiday would "not create a huge rush" from buyers in the next couple of months.
They also said prices and sales were expected to remain steady going in to spring.
Rics Scotland director Sarah Speirs said: "With first time buyers no longer exempt from stamp duty as of the end of March, it seems that some are looking to purchase homes before the deadline.
"However, surveyors in Scotland don't expect this to have a massive impact on the number of sales. The lack of affordable mortgage finance is still preventing many from getting onto the property ladder."
She added: "Good news is that sellers are returning to the market after the usual end-of-year break and surveyors in Scotland expect house prices to remain fairly steady."