Loch Lomond park gold mine plan secures formal approval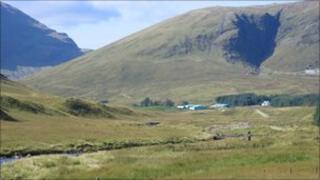 Scotland's first commercial gold mine in Loch Lomond National Park has formally been granted planning permission.
It follows months of legal negotiations between mine developers Scotgold Resources and park officials.
Planning permission was approved by the park's board in October but was subject to a number of legal obligations.
The parties have now agreed a £2m financial package, largely relating to conservation work.
The agreement includes three bonds totalling £1.3m, which would allow park officials to enter and restore the site to an agreed standard at any stage of the development, should the operator fail to meet its obligations or abandon the mine.
The bonds include £950,000 to restore the landscape of the mine site, £160,000 for mining waste management and £222,000 towards the Greater Cononish Glen Management Plan, a 30-year native woodland regeneration project.
The financial agreement also included a commitment from the developer to contribute £325,000 towards other conservation and visitor projects in the national park over the period of the mine.
Work at the gold mine is expected to start this summer.
Scotgold secured planning permission last October at its second attempt.
The first application was rejected by the Loch Lomond National Park Authority over conservation concerns.
Scotgold Resources plans to extract more than £50m worth of gold and silver from a hillside near Tyndrum.
It has been 500 years since gold was successfully mined in Scotland, but the high price of precious metals now makes the work cost-effective.
Stirling MSP Bruce Crawford said: "The decision to approve this project is excellent news, and I am delighted that this gold and silver mine will now proceed."