Small Scottish firms urge rules overhaul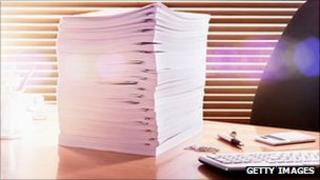 Small firms in Scotland are calling for the country's regulatory system to be overhauled, claiming businesses are being damaged by current policies.
The Federation of Small Businesses (FSB) argue post-devolution regulation has become "burdensome or ineffective".
The organisation will tell a local authority conference in Fife that councils have failed to tackle bad regulatory practice.
It is urging ministers to set up a statutory body for local regulation.
The organisation is also calling on the Scottish government to adopt a new national approach, unless there is an "overwhelming case" for localism.
Approach 'hurting'
Scottish ministers said in December that they would consult on detailed proposals for a Better Regulation Bill, which would be brought forward in 2012-13 to help build economic growth.
FSB policy manager Susan Love said: "We believe that Scotland's approach to regulation is hurting the country's interests.
"We also believe that councils can do a lot to help local businesses survive and thrive, but they're letting businesses down by failing to tackle bad regulatory practice.
"We've demonstrated that the same problems occur time and again and that's unacceptable at a time when we need government at all levels to support economic growth."
The federation will present its case to a Convention of Scottish Local Authorities (Cosla) conference in St Andrews, Fife.
It will raise a number of case studies, including the example of an independent cafe owner who criticised a council for failing to help with its pavement seating policy, refusing to allow monthly payments and neglecting to respond to requests.
Cosla said it welcomed the FSB's support for the "better regulation" agenda.
'Better partnership'
A spokesman said: "In recent months we have actively engaged with Scottish government over the forthcoming Better Regulation Bill - indeed council leaders will be receiving a paper on the matter next week.
"Members have been keen throughout to express concern over the impact of any proposals on business and wider community development."
He added: "We do however believe that local democratic responsibility needs to be maintained, but where national systems deliver the best outcomes this is a clear win for all involved.
"However, this could be achieved by better partnership working from all organisations rather than the same rush for legislation."
The Scottish government said it was committed to supporting the business community and "retaining Scotland's position as the most competitive environment for business in the UK".
A spokeswoman said: "Better regulation is crucial to delivering sustainable economic growth and the proposed Better Regulation Bill aims to further improve the regulatory landscape by better defining national expectations and standards.
"We are working with businesses and business organisations, including the Federation of Small Businesses, Cosla and local and national regulators to ensure the bill will enhance delivery of better regulation, and to give businesses the support and advice they need to realise their ambitions and contribute to Scotland's economic success."