Car dealer Peoples 'optimistic' after annual results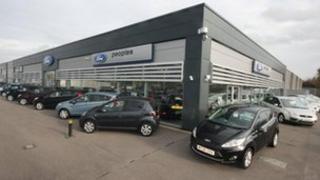 The chairman of Peoples Motor Group has expressed optimism about the year ahead after the car dealer reported a rise in turnover for last year.
Brian Gilda said he was optimistic, despite a range of economic challenges facing the industry.
His comments came as Peoples reported a 2.2% rise in turnover to £144.3m, mainly due to an improvement in the fleet and business-to-business sector.
Pre-tax profits stood at £1.6m, well below its record of £3.04m in 2010.
Peoples said it was pleased with the results, given last year's VAT rise and the end of the UK car scrappage scheme.
'Challenging' year
Chairman Brian Gilda said: "Higher unemployment, pay freezes, the eurozone crisis, record petrol and diesel prices, all contributed to what was a difficult and challenging year."
Mr Gilda said there had been a welcome upturn after the entire used car market experienced a surprise dip in the middle of last year.
He said: "Volumes have come back, we're doing the right things, and I'm confident with how things are going."
The chairman acknowledged that 2012 was already shaping up to be equally as challenging as last year but said he remained optimistic.
He added the company would be "taking a long, hard look" at its own costs to ensure "we can be as fit as we can be" in an uncertain marketplace.
The Edinburgh-based group employs 400 people at its six Ford dealerships in central Scotland and Merseyside.