Investors warned over Pritchard Stockbrokers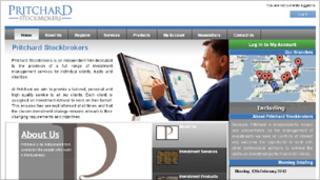 Investors have been warned a stockbroking firm, whose company secretary is ex-Rangers chairman Craig Whyte, may not be able to return their investment.
Merchant Capital had £8.8m on account with Pritchard Stockbrokers in Bournemouth at the end of June 2011.
Parent firm Merchant House Group issued the warning to its clients in a statement to the stock exchange.
Mr Whyte is a lead investor in Pritchard.
He placed Rangers FC into administration earlier this week.
Last Friday, the stockbroking firm was banned from further trading by the Financial Services Authority.
It ruled that it had been using clients' funds to pay its own expenses and to trade on its own account, thus putting clients' funds at risk. That broke the rules under which it is licensed to act as a stockbroker.
Merchant House Group responded with a statement saying it was confident client funds were secure, but it has since updated and reversed that statement.
It told the London Stock Exchange: "We are awaiting further news on the possible implications and therefore we cannot at this time determine whether clients of Merchant Capital may suffer some economic loss".