Lothian buses to increase fares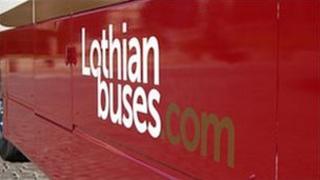 Bus passengers in Edinburgh are facing a new round of fare increases from 4 March.
Lothian Buses has announced adult single fares are to go up from £1.30 to £1.40 while the price of an adult day ticket will rise from £3.20 to £3.50.
The company has blamed the increases on Scottish government funding cuts and increased operating costs.
Ridacard tickets are also to increase in price. Weekly ridacards will increase from £16 to £17.
Four week ridacards will increase from £48 to £51.
Monthly direct debit payments for a Ridacard will go up from £45 to £48 and annual payments will rise from £576 to £612.
Child, student, airlink and night bus fares will not be affected by the change.
Managing director of Lothian Buses, Ian Craig, said: "We endeavour to keep ticket prices as low as possible but this is an extremely challenging time for everyone.
"We know price increases are never welcome and this decision has not been taken lightly. It is, however, a necessary step to ensure we safeguard services as best we can and continue to invest in the quality of our operation and our environmental objectives."
Speaking last month, Scottish Transport Minister Keith Brown said: "Despite the challenges of real terms Westminster cuts, bus funding for concessionary travel and grants such as Bus Service Operators' Grant (BSOG) have been maintained over the spending review period at just under quarter of a billion ponds.
"When BSOG payment calculations change in April 2012, we will be in a better position to encourage fuel efficiency and redistribute benefits, principally to rural areas.
"We would expect the bus industry in Scotland to act responsibly whenever they are looking to set bus fares. "