Salmon firms in wrasse initiative over parasite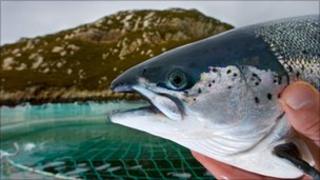 A full-scale operation to farm and deploy wrasse fish in salmon cages is being launched in Scotland.
The Scottish Salmon Company (SSC) and Meridian Salmon Group hope the move will help reduce sea lice levels on salmon farms.
Under a deal with Otter Ferry Seafish, wrasse will be commercially farmed for use in salmon cages for the first time.
More than 250,000 wrasse will be deployed at marine sites over the next three years.
The initiative, which is supported by The Crown Estate, aims to show the value of wrasse to help manage levels of sea lice and reduce the dependency on veterinary treatments.
Both companies will introduce the wrasse alongside other husbandry methods that help counter the naturally-occurring parasite that attaches itself to both farmed and wild salmon.
They will study the potential benefits of introducing the lice-eating wrasse, or "cleaner fish", for animal welfare and the marine environment.
Findings from the project will be shared with the wider industry through the Scottish Salmon Producers' Organisation.
The initiative builds on initial projects involving the main partners.
'Step forward'
Three years ago, Edinburgh-based SCC worked with Viking Fish Farms at Ardtoe in Argyll to develop the first initial commercial production of Ballan wrasse.
At the same time, Meridian - which is based in Bellshill, Lanarkshire - was instrumental in initiating a multi-partner funded pilot project at Otter Ferry, Argyll.
The project recruited broodstock and established protocols required for commercial production of wrasse.
Dale Hill, from SSC, said: "This is an important step forward, from both an environmental and industry perspective.
"While sea lice are naturally occurring we have the opportunity to control and manage the situation in salmon pens and, with relatively few veterinary treatments available to us, the need to find natural biological solutions is paramount."