Deeside Brewery reopens after investment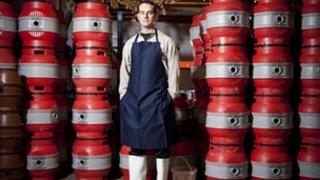 A small north-east brewery, which closed last year, has reopened and expanded after securing investment to fund new staff and equipment.
Deeside Brewery, based near Aboyne, shut down after it could not raise enough money to meet growing demand.
The facility, which specialises in Scottish craft beers, reopened recently with financial support from a local businessman.
The first commercial bottling run of 8,000 bottles is under way.
Production at the brewery has already reached 6,400 litres a week - double the amount it achieved before closing in the autumn.
The company said it was currently holding talks with a national distributor over its beer range.
Deeside opened in 2006 and moved to its current premises in 2009.
The brewery makes five beers, including its flagship product MacBeth, named after the Scottish King who was killed in a battle at nearby Lumphanan.
Brewery Manager Tim Hieghton-Jackson said: "There has been a massive trend among consumers in recent years to increasingly choose craft beers over mass produced brands, so we are confident we will be looking at further expansion in future.''