Weir Group raises offer for Australian mining firm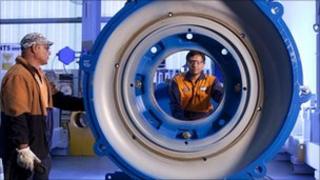 Engineering firm Weir Group has raised its offer for Australian mining company Ludowici to match a rival bid.
Glasgow-based Weir said it had made a binding offer, subject to conditions, which valued Ludowici at £243m.
The bid matches an increased offer from Danish engineering giant FLSmidth.
Weir said the offer was conditional on regulators barring FLSmidth from offering to pay Ludowici shareholders more than its first offer of A$7.20 per share.
Weir is seeking an order from the Australian Takeovers Panel preventing the Danish firm from increasing its initial offer on the basis that FLSmidth had undertaken not to increase its bid on 23 January.
Earlier this month FLSmidth raised its bid for Ludowici to A$10 per share, subject to the outcome of the takeovers panel proceedings, trumping a rival A$7.92 bid from Weir.
The panel is currently considering the application.
Weir's binding offer is open for acceptance by the Ludowici board until Friday.
Binding offer
Weir chief executive Keith Cochrane said: "We have now undertaken due diligence which has reinforced the attractiveness of this opportunity for the Weir Group.
"The acquisition would extend Weir's offering in attractive segments of the minerals processing sector, while still meeting our strict financial criteria.
"Weir's binding offer also ensures certainty for Ludowici shareholders. If our offer is accepted, Ludowici shareholders will have the opportunity of receiving A$10 per share regardless of the outcome of the takeover panel proceedings."
Mining equipment firm Ludowici's main market is in Australia, but it also operates in South Africa, South America, India and China and employs 1,000 people worldwide.
The potential deal with Ludowici is the latest in a long line of acquisitions for the group.
In 2010 it bought Malaysian mining services group Linatex.
Last summer it took a majority stake in a South Korean valves business, and later in 2011 it bought America's Seaboard Holdings for £430m.