'Worrying' offshore oil and gas trend masked by some major projects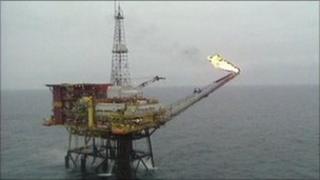 A handful of major offshore projects are masking a "worrying" investment trend, an industry body has warned.
Oil and Gas UK said medium to long-term prospects were apparently being "frustrated by the structure and instability of the current fiscal regime".
Chief executive Malcolm Webb said it would be wrong to take current project activity as long-term confidence.
He said production saw a record decline last year.
Mr Webb explained of the 2012 Activity Survey: "This year and next will see high investment on a few large projects which were commercially committed before last year's Budget.
"However, 2011 production saw a record drop, exploration halved and business confidence remained sluggish, despite an average oil price of $111 per barrel.
"The drop in 2011 production illustrates some of the economic challenges we face in this mature oil and gas province - rising costs and the need to inject more capital to sustain the existing production base.
"Continuing fiscal instability will accelerate decline."
'Fair contribution'
An HM Treasury spokesperson said: "The oil and gas sector is extremely valuable to the UK economy and a driver of jobs and growth that we should be proud of.
"The government seeks to deliver a tax regime that encourages investment and innovation in the North Sea, while also making a fair contribution to the public finances.
"Through the fiscal forum, which met for the first time last month, we've been engaging constructively with the oil and gas industry and will continue to seek their views and expertise on tax issues."
Meanwhile, energy economist Mackay Consultants said North Sea oil and gas is expected to see its current 88% share of total capital expenditure fall to 68% in the decade to 2020.