Weir's profits rise 30% to £396m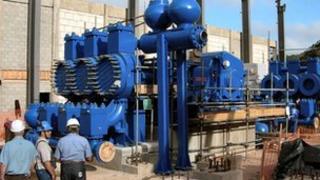 Glasgow engineering firm Weir Group has beaten its own profit targets three years early.
The company planned to double its 2009 profits by 2014 but reached that milestone last year.
In 2011, the group increased pre-tax profits by more than a third, making £396m.
Weir said it had been able to "execute effectively our growth plans in positive conditions in our principal end markets".
Keith Cochrane, Weir's chief executive, added: "We also progressed our strategic agenda with new product introductions, two acquisitions which further increase our exposure to fast growing markets and revenue growth from organic initiatives.
"The group enters 2012 with a strong order book and with our clear strategy and flexible business model we expect a year of further good progress consistent with current consensus expectations."
Weir has benefited from an increase in investment in conventional mining among its customers.
It has also boosted its presence in the booming shale oil and gas industry in the US, with the acquisition last year of America's Seaboard Holdings.
Texas-based Seaboard's expertise lies in "fracking", or fracturing, of shale formations to develop "unconventional" reserves of oil and gas.
Weir is currently in a takeover battle for the Australian mining company Ludowici.
The Scottish group is looking for a review of a decision by Australia's Takeover panel which ruled in favour of a rival bid for Ludowici earlier this week.