Slow recovery for Stirling insulation firm, Superglass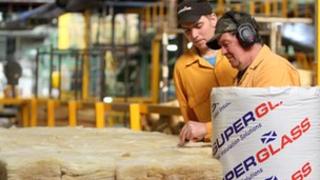 The insulation company, Superglass Holdings, has announced an increase in sales for the current financial year on the same period last year.
But, in an interim statement, the Stirling-based company said it was still behind the budgeted level.
Following financial difficulties, Superglass re-capitalised at the end of 2011.
Nearly 190 jobs at the company were safeguarded after the firm raised £8m and agreed to reduce its debt.
The resulting shortfall in sales has, it said, been partially mitigated by lower costs.
In a statement the company said: "Inevitably, the widely-known financial difficulties experienced by Superglass prior to the successful recapitalisation at the end of 2011 have impacted adversely on trading during the first half of the financial year; and it is taking time to rebuild confidence amongst our customer base."
Superglass said the government's Carbon Emissions Reduction Target Scheme (CERT) which gives grants to households insulating their homes has shown strong growth.
And the company said that with increased volumes from CERT, increased selling prices and the benefits of sales specification activity beginning to take effect, results for 2011/12 would, as expected, be strongly second half weighted.