Scottish independence: Engineering boss voices referendum vote concerns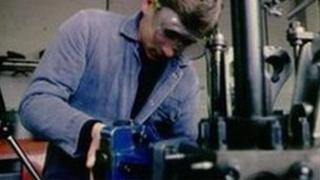 The chief of an engineering industry body has added his voice to concerns regarding the timing of the Scottish independence referendum.
Dr Peter Hughes, the chief executive of Scottish Engineering, raised the matter in the latest issue of the group's quarterly review.
In a survey to which 100 of the group's members responded, 72% called for the referendum to be held "much earlier".
22% preferred Autumn 2014, as set out by the Scottish Government.
The UK Government has argued that the ballot could be held in Autumn 2013.
Dr Hughes said: "A survey of our members has indicated that the vast majority are keen to see a speedy resolution with regard to the independence referendum.
"As we all know, uncertainty can seriously undermine the confidence of companies growing and developing their business both at home and abroad.
"As yet we have not seriously entered the well-informed debate phase on the question of independence.
"It is important that our politicians start to answer the key questions which we have been asking rather than indulge in political rhetoric which does nothing to advance our understanding of the key elements involved."
The comments on independence follow interventions by power utility SSE, formerly Scottish and Southern Energy, the chief executive of Scottish-based engineering firm Weir Group and Keith Miller of the Miller Group.
All said they were concerned about uncertainty caused by the independence referendum.
But Gnacio Galan, chairman of Iberdrola - the parent company of Scottish Power - said he was unconcerned about the issue.
Scottish Engineering's report was a wider look at industry performance.
Dr Hughes's said it had proved to be "more resilient than many people expected".
He described a "positive situation" for orders and recruitment, and highlighted strong overall optimism.
Dr Hughes said: "In the last quarter of last year we reported that small companies appeared to be bearing the brunt of the economic chill, but their figures have improved and now medium-sized companies are really forging ahead.
"We have modest hopes for continuing success based on the forecasts for both UK and export orders which are even more positive."
'Head of steam'
The figures were welcomed by the Scottish government.
A spokesman said: "In the face of severe cuts from Westminster, this government continues to use every lever available to support Scottish businesses, secure new investment and create and safeguard jobs."
The UK government's Scottish Secretary Michael Moore said: "Scottish business is making its voice heard loud and clear.
"They don't want the uncertainty a three-year wait for a referendum entails. Scottish engineering is a sector that has always been important to Scotland and is vital to our future."
The Lib Dem MP added: "There is an undeniable head of steam for the referendum to happen sooner rather than later. Let's get on with asking the Scottish people a single question next year."
Scottish Conservative leader Ruth Davidson said: "This is another voice in a chorus of growing concern at the delay in holding the referendum.
"Scottish Engineering is a major body in Scotland and their opinion must be taken seriously."
She added: "Alex Salmond is still refusing to give any good reason as to why he wants to delay his separation referendum for nearly three years.
"Scottish industry and the Scottish people want him to get on with it and for the good of Scotland we need to hold the vote sooner rather than later."