Keeping Rangers out of court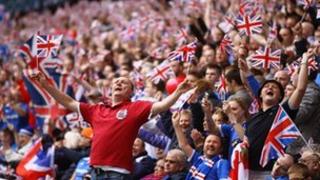 The urgency has gone out of Rangers' administration. Sixteen days on, it seems we're in for a longer haul.
And one of the reasons is that claims on the club's future revenue are open to dispute, so any consortium of buyers could take a while to knock together, avoiding legal disputes.
What we once thought might be a swift pre-pack deal - Craig Whyte putting the football club into administration, and swiftly exiting again with the assets, but minus the debt - now seems so last year.
The majority shareholder may still have an advantage as secured creditor, which would give him a big advantage in staking claim to the assets, but that status has been placed in doubt by administrators.
His status as saviour of the Glasgow club is hardly credible now, with a growing expectation that whatever the future of Ibrox, he won't feature as a major part of it for long.
Air of uncertainty
That sounds like the assumption underlying the latest statement issued by Ticketus, the company that advanced £24m to Rangers in exchange for (Whyte told us last week) proceeds from three years of season ticket sales.
He also admitted that that money, secured a few days after the transfer, was used to complete the takeover deal.
Ticketus has cause to be concerned by the risk that it may not get its £24m back.
Last week its parent company told investors, via a statement to their financial advisers, that they were "comfortable" with the company's position, and that the business model is sound.
But in wording that looks like it was required by its regulator, the Financial Services Authority, it said it "cannot and does not guarantee capital preservation".
Today's statement from Ticketus adds to that air of uncertainty. It has the sound of a company that's trying to reassure itself and its investors that everything's going to be OK:
"Ticketus has an obligation to its investors to pursue all avenues to ensure that the ticket purchase agreement it entered into with the club is honoured, and we are committed to going to the lengths necessary to ensure that the future of the club is preserved and its agreement with Ticketus fulfilled."
Legal battle
Following a meeting with administrators on Wednesday, the main thrust of the statement is to stress its eagerness for a deal to be done, and rapidly.
The problem for Ticketus is that it believes it's got a contractual right to sell Rangers season tickets for the next three seasons, but it's not clear that a future owner of the club's assets would recognise that contract.
The statement makes clear that the contract is with Rangers Football Club plc, as opposed to any other Craig Whyte company. But if Rangers FC plc is liquidated and another company takes on the assets, what happens to the contract?
Several lawyers have been looking at that, and there's a risk for any future owner of the assets that a deal which doesn't involve Ticketus, and which doesn't recognise its ticket deal, could find itself hobbled by a protracted legal battle.
That makes it appealing to include Ticketus in a consortium bid. And I hear that it's interested in joining other potential bidders.
It would clearly ensure that any such deal retains its revenue flow from season ticket sales, and it's making it known that there could be more money on the table beyond the £24m.
Cash flow
The statement concluded: "We have already been in contact with a number of other key stakeholders, including potential bidders and fans' representatives, and believe working collaboratively with all parties to create a solution for the Club that puts it on a secure financial footing must be everyone's priority.
"Ticketus looks forward to continuing to work with the administrators and serious potential bidders to secure a positive outcome for the club."
Of course, a positive outcome for the club requires a decent playing squad. Without that, it may be hard to persuade fans to part with cash for their season tickets.
And there's now less than a month for Rangers to get out of administration if it's to qualify for European competition next season, without which cash flow will get tighter still and the club will become less attractive to top players.