New mortgage scheme gets go-ahead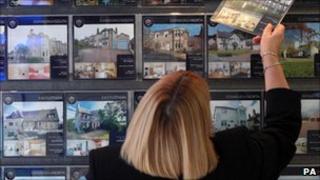 The Scottish government has announced it will back a scheme designed to help first-time buyers and others to buy a new-build home.
The national mortgage indemnity scheme will assist households who could afford a mortgage on a new home but do not have the high deposit needed.
It is estimated up to 6,000 people could be helped in this way.
It is projected the scheme could create or safeguard 22,800 new construction jobs and over 650 apprenticeships.
The chief executive of the industry body, Homes for Scotland, Jonathan Fair said: "Constraints surrounding mortgage lending have proved the single biggest obstacle to recovery in the housing market.
"It has therefore taken us a huge amount of effort and innovation to get to this point so we are absolutely delighted to be leading a scheme which we believe has the potential to make such a difference to so many fundamental areas."
According to the Council of Mortgage Lenders (CML), home loans advanced to first time buyers in Scotland fell by half from 35,300 in 2007 to 16,900 in 2011.
And a recent Bank of Scotland report stated that the number of first-time buyers in Scotland had fallen to its lowest level for 35 years.
Capital Investment Secretary, Alex Neil said: "The scheme will inject new life into the housing market, with the aim of helping thousands of households to be able to buy a new-build home that they can afford.
"I also want to send a clear signal to Scotland's housing sector that this government will do all it can to provide the kind of solid foundations and certainty our construction industry demands."
More details of the scheme and its launch will be announced at a later date.