Scots economy to remain "subdued"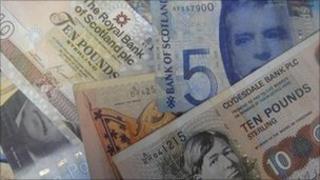 The Scottish economy will remain "subdued" in the first half of 2012, according to the Scottish government's chief economist.
Dr Gary Gillespie, said sustainable economic recovery was not likely to take place until 2013.
He predicted that it could now be 2027-28 before Scottish spending returns to its 2009-10 level in real terms.
And he warned there were still "significant headwinds" affecting Scotland's recovery.
These included the eurozone crisis, the squeeze on household spending, higher unemployment rates and the difficulties some businesses have getting finance.
Dr Gillespie said: "2011 was disappointing in terms of the outlook, the weaker than expected growth, employment falling back in the UK and Scotland.
"Obviously there was the uncertainty created through the eurozone crisis. That uncertainty, and where we are now in 2012, leads me to think it will be 2013 before we can be confident of a sustainable recovery."
Finance Secretary John Swinney said the report made the case to support calls for investment in capital projects, action to boost lending to business and support for household budgets.
Speaking following a meeting of UK and devolved government finance ministers, Mr Swinney called on the Chancellor to use the forthcoming Budget to invest in economic recovery.
He said: "It is clear that across the devolved governments there is a shared desire for more and stronger action from the UK in place of a damaging austerity programme that is undermining growth and increasing debt instead of cutting it."