Packaging firm Macfarlane rides cost rises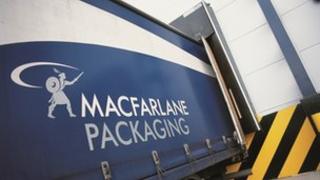 Glasgow packaging firm Macfarlane has achieved an increase in profits in the face of the rising cost of raw materials.
The company made profits last year of £3.9m with turnover up 7% to £144m.
However, Macfarlane said its pension scheme deficit was proving a "difficult legacy issue to tackle", rising by £4.8m to £20.5m in 2011.
The firm said its performance had been achieved "despite continuing increases in the cost of raw materials".
It also pointed to "weakening UK demand and some higher than expected bad debt experience in the UK retail sector at the end of the year".
Macfarlane which has its headquarter in Glasgow, employs 700 people at 22 sites, principally in the UK and Ireland.
New chairman
Meanwhile the company announced that Archie Hunter, was leaving the group after more than 8 years as chairman and 14 years on the board.
Mr Hunter said it was "time for a new Chairman to take the company to its next stage of development".
He will step down in May following the firm's Annual General Meeting.
He said: "A rigorous process to recruit my successor, considering both internal and external candidates, is at an advanced stage".