Power firm Aggreko sees profits up 6% to £327m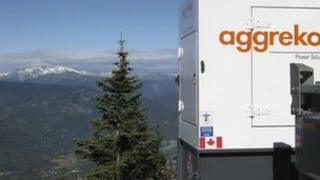 Power firm Aggreko has reported pre-tax profits for 2011 - up 6% to £327m.
The Glasgow based group, which provides temporary power for special events, expected a strong start to 2012 but it was more cautious about later in 2012.
The company increased its forecast for capital expenditure for the year by £30m.
The company's chief executive told the BBC he was "pleased" with the results given the comparison with 2010 which was a "monster" year for the firm.
Rupert Soames said in 2010 Aggreko had delivered temporary power for the FIFA World Cup, the Winter Olympics in Vancouver and the Asian Games.
There were fewer large events for the firm last year, but underlying profits were up 26% and revenue up 22% to £1.4bn.
The company said that its International Power Projects business had a strong order intake in the first two months of the year, mainly in Africa, Asia and the Middle East.
The group moved into 16 new locations in 2011 either by opening new premises or through acquisition.
Aggreko added that it planned to spend £350m on fleet capital expenditure in 2012 - £30m more than it previously said it would spend.
In 2011 the company spent £418m, a record amount, on capital projects including a new factory in Dumbarton which employs 400 people.
The Dumbarton plant is making generators for Aggreko's worldwide operations including for the 2012 Olympic Games.
Mr Soames said: "Our factory in Dumbarton is chucking out generators as fast as it can to go down to London in preparation for the Olympics."