Soft drinks maker Sangs bought by US firm Cott Beverages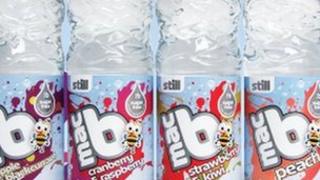 The Aberdeenshire soft drinks firm, Sangs, has been bought out of administration.
The company has been taken over by Cott Beverages - a world-wide retailer brand beverage company.
Sangs is based at Macduff and employs about 60 workers. There will be no job losses.
There were more than 30 expressions of interest in the company, which went into administration in January.
Cott Beverages, which employees around 4,000 people, operates soft drink, juice, water and other beverage bottling facilities in the United States, Canada, the UK and Mexico.
Sangs' soft drinks brands include the Deveron Spring and MacB range of waters.
Commenting on developments Liz Mackay, partner at restructuring specialists Zolfo Cooper and joint Administrator said: "We are delighted to see Sangs exit administration and with the fact that it is now so well positioned for the future.
"We have always been of the mind that the people, products and provenance of this very special, and uniquely Scottish business, had a great deal to offer any owner prepared to invest in and develop them and today's news clearly confirms that view.
She added: "My team and I would very much like to thank the staff at Sangs all of whom have worked exceptionally hard and remained entirely committed to the business during the period of administration.
"We wish them and the new owners the very best of luck for what we are confident will be a successful and exciting future."
The former owner of Sangs, Kenny Webster, had previously said the firm was placed into administration by Allied Irish Bank without warning.
Commenting on the news that firm had been bought by Cott Beverages he said: "I've always maintained that Sangs was a company in profit, in growth, with no cash flow issue.
"We never defaulted on a loan interest or supplier payment and we received no notice of administration from the bank.
"I poured my heart and soul into that business - as a born-and-bred Scot, I did my very best to build a growing, successful company in the north-east.
He added: "Securing and creating jobs in that area of the country was very important to me and I don't believe that any other organisation will feel as passionately about that as I did."
Enterprise Minister Fergus Ewing welcomed the news that a buyer had been found for Sangs.
He added: "I hope that the new owners, Cott Beverages, invest not only in the Banff site, but protect jobs and create new opportunities to grow operations."