Consumer Focus raises insurance concerns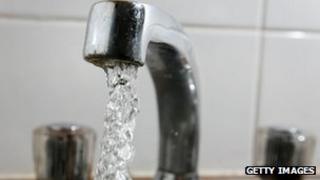 Scotland's consumer watchdog has raised concerns about the relationship between Scottish Water and a private insurance company.
Consumers Focus has claimed thousands of households have been sent letters from the Homeserve insurance company in Scottish Water-branded envelopes.
The letters aim to sell the company's private insurance cover for pipes.
Scottish Water and Homeserve said most of the issues raised had since been addressed.
Consumer Focus said its own investigation found that many people thought the letter was confusing.
It said that many people believed the literature had been sent directly from Scottish Water.
Earlier this year Homeserve said it expected a drop in customers in the UK after concerns over its sales practices.
Consumer Focus urged Scottish Water to remove or minimise its branding from the private firm's sales literature and ensure it makes the relationship clearer.
Sales tactic
Douglas Sinclair, chairman of Consumer Focus Scotland, said: "Consumers expect to be able to trust information from their public services.
"It is unacceptable that people will have received a letter that they think is from Scottish Water, but is in fact a carefully-crafted sales tactic by a private insurance firm".
He added: "Scottish Water has a privileged position as a public sector utility and Scotland's water supplier.
"It is deeply concerning that it has allowed this commercial relationship to cloud how transparent they are with customers - it needs to make things a whole lot clearer and live up to its own ambition of a valued and trusted service".
"This also raises an important point about whether public services should endorse any one private firm - an urgent debate is needed on that."
Track record
In a statement Homeserve said: "Homeserve and Scottish Water have been working in partnership for 11 years.
"Homeserve has a long track record of providing reliable home emergency repairs to Scottish Water customers with customer satisfaction levels currently running at 93.8%.
"When Consumer Focus Scotland aired the concerns contained in this report last year, Homeserve changed its mailings in line with their recommendations in order to clarify further the relationship between Scottish Water and Homeserve."
A spokesman for Scottish Water said: "We have already addressed most of the issues raised by Consumer Focus Scotland (CFS) and they have acknowledged changes made to the HomeServe literature. We are happy to meet them again to discuss this.
"Scottish Water asked Homeserve to make our relationship with them clear to customers on these mailings.
"The rolling-out last autumn of dual-branding, where the Scottish Water logo is combined with the Homeserve logo underneath with the word 'introducing' connecting the two logos, was part of the move to clarify things for customers.
"This dual-branding approach is used by many other water companies in Britain. Further work to improve the clarity of literature has been carried out by Homeserve since then."