RBS and Lloyds announce Scottish job cuts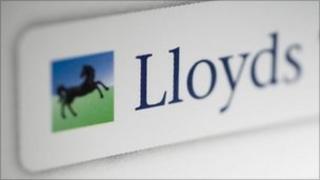 The Royal Bank and Lloyds banking group have announced nearly 150 job cuts in Scotland.
Lloyds said most of the 130 jobs it was cutting would be in HR and in IT where it planned to outsource some back office functions to India.
Last June, Lloyds announced 15,000 job losses and this is the details of where the axe will fall and includes more than 1,000 redundancies in England.
Meanwhile 16 RBS jobs are to go in Scotland.
Overall in the UK, the Royal Bank is cutting 464 posts although it said it was creating 150 new ones.
It is part of the ongoing restructuring of the bank and the group's chief executive, Stephen Hester, warned at the last set of annual results that there could be further job losses.
Meanwhile, Lloyds is targeting £1.5bn in annual savings by 2014.
The bank, which is 40% owned by the taxpayer, said "compulsory redundancies" would always be a last resort.
Finance unions said it was another "black day" for the banking industry and questioned why the Government was not intervening.