Sales slump for Dundee dental firm 3D Diagnostic Imaging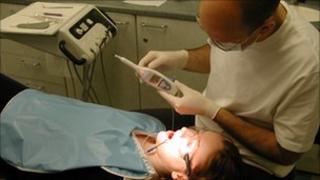 Dundee-based 3D Diagnostic Imaging is seeking a partner in the dental sector after reporting a slump in sales.
The dental technology firm said turnover fell by nearly 90% to £68,000 in the six months to 31 December.
3D, which produces a handheld device for the early detection of tooth decay, said sales had, in part, been hit by a manufacturing defect which was later resolved.
It also blamed the sales performance on third-party distributors.
3D said a number of those distributors had "not performed" as it had hoped.
In a statement, the company said its "difficulties in achieving any meaning level of sales" had proved frustrating and it was considering potential ways in which to strengthen its balance sheet.
It said: "The board is taking active steps to explore the possibility of there being a suitable entity, with adequate resources and an existing international distribution infrastructure, with whom to partner in the dental sector.
"Similarly, active steps are being taken to identify a suitable entity with whom to partner in the development of the opportunity which the company's technology platform provides in the osteoporosis sector."
'Mixed fortunes'
Interim non-executive chairman David Snow said it had been a period of mixed fortunes for the company, with a number of major achievements.
He added: "Whilst we were disappointed with the level of sales traction we achieved in the six months to 31 December 2011, we now see some early signs of an improvement in trading as a result of the initiatives we have subsequently put in place.
"The board continues to review the company's strategy and also consider potential ways to further strengthen the balance sheet."
The company is registered in the Isle of Man but trades under the CarieScan brand from an office in Dundee.
CarieScan Pro is a handheld device for the early detection of tooth decay, reducing the need for X-rays and fillings.