Revised plans for Dundee business park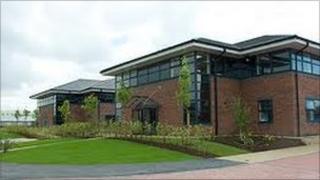 The owners of Dundee Business Park are to submit revised plans for the site in a bid to complete the development.
The proposed £18m investment by Gladman Developments includes office pavilions, a store, car showrooms and a hotel.
Gladman won planning permission for 140,000 sq ft of office space in 2008 but completed only three pavilions with a combined total of 15,000 sq ft.
The firm said a drop in property values meant speculative office development was no longer viable in isolation.
Plans for the park, which stands on the former 10-acre Valentine's factory fronting Dundee's Kingsway, include the construction of a further 13 office pavilions providing 30,000 sq ft of office space.
Prominent site
The rest of the site is for a proposed mixed-use development.
Explaining the revised strategy, Gladman partner Greg Limb said: "By bringing forward a fresh planning application for this highly prominent site we have identified a number of commercial sectors which would benefit from the visibility of this location - 40,000 cars travel on the Kingsway every day.
"We have had interest from prospective occupiers who are household names not already represented in Dundee, while others are well known local businesses looking to relocate and expand."
An independent economic assessment report, commissioned by Gladman, has suggested the proposals could lead to 550 full-time equivalent jobs, with an additional 300 or more construction jobs over several years.
A planning application is expected to be submitted to Dundee City Council by the end of June.