Fashion group M&Co expands into the Middle East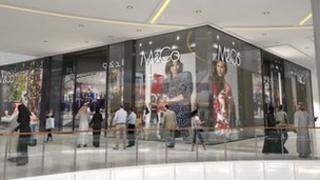 Scottish fashion group M&Co has announced it is to expand abroad with four new stores planned in the United Arab Emirates this year.
The company is set to open its first outlet in the Dubai Mall in May.
A second store is scheduled to open within Dubai Marina Mall in June, with two more outlets expected to open in Abu Dhabi later in the year.
M&Co is Scotland's largest independent fashion retailer, and has ambitious expansion plans.
The business which is based just outside Glasgow is hoping to roll-out as many as 50 international franchise stores over the next five years if market conditions allow.
M&Co has signed a franchise agreement with Liwa Trading Enterprises, the retail arm of Al Nasser Holdings, to open 30 stores in the Gulf Cooperation Council (GCC) which includes; United Arab Emirates (UAE), Qatar, Bahrain, Saudi Arabia, Kuwait and Oman.
Natural market
Lee Braid, international franchise manager at M&Co, said: "We are extremely excited to be working with Liwa Trading Enterprises, which has been successfully trading for more than 20 years in the region, and has a portfolio of 150 stores across the GCC.
"Given the breadth of retail experience the company has in the region, this is a perfect partnership for the contemporary M&Co brand.
"We see the UAE and the wider Middle East as a natural market to launch the brand overseas given our family appeal and strong fashion-focused, quality offering."
M&Co is also discussing other franchise opportunities with a view to expanding in Serbia, Russia and the Ukraine.
Started 50 years ago, M&Co now has 282 shops in the UK and three are the newly re-launched 'City Concept' stores.
Many of the group's stores are located in high streets. The company has a turnover of more £200m and employs 3,500 staff.