Intensive help for more companies from Scottish Enterprise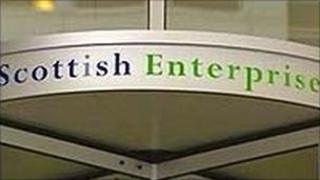 Scottish Enterprise is to increase the number of companies it supports intensively, with the aim of boosting growth and exports.
The Scottish government's main economic development agency is adding 400 companies to the 2,000 it is already backing with support for growth.
The new business plan sees the Scottish Enterprise budget held steady in cash terms.
The agency intends to cut back on intellectual property in universities.
Talking about the firms being supported by Scottish Enterprise, chief executive Lena Wilson said: "We know those companies are twice as productive as those we don't support.
"They increase their turnover by about 50% more, and that will go up to 80 or 90% if they work with us.
"Our job is to make them even more bold, and more ambitious. They employ graduates, they innovate and, most important, they're likely to look for export markets."
The agency's capital budget will fall over the next year to coincide with the end of projects it has supported to build the Scottish Hydro Arena in Glasgow and the Bio-Quarter in Edinburgh.
In an interview with BBC Scotland, Ms Wilson also discussed the poor figures released this week by the Scottish government on research and development investment by Scottish companies, which declined during 2010.
She said: "The research and development figures are undoubtedly very disappointing, but perhaps not that surprising.
"We've seen companies becoming more cautious. As optimism increases, and the next half of the year looks to be much more optimistic, so we should see that increasing."
Ms Wilson was also questioned about inward investment and the impact on foreign investment of uncertainty over Scotland's constitutional future.