Funding package for luxury Inverness hotel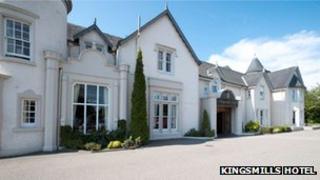 A luxury Inverness hotel and leisure venue has agreed a £9.4m refinancing package which will help boost its plans to extend the facility.
The four-star Kingsmills Hotel struck the deal with Barclays as part of a "positive growth stategy".
The package ties a Barclays cashback finance scheme to the UK government's recently announced National Loan Guarantee Scheme.
It will pass on a reduced loan rate in the form of an upfront cash payment.
In Kingsmills' case, this will mean an immediate £250,000 boost to its cash flow to assist its plans to extend the hotel.
The deal consists of a £9.1m term loan and £300,000 overdraft facility which refinances Kingsmills' existing arrangements.
The parties have also agreed the basis of a further deal to fund the hotel's development, allowing the business to complete a strategic plan put in place following its acquisition by Patio Group from Marriot in 2007.
The planned extension of its conferencing and event space will involve the demolition of the existing garden wing and the addition of 38 ensuite guest rooms.