Aggreko wins $80m Dominican Republic power contract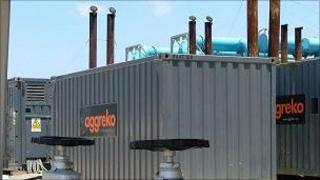 Temporary power company Aggreko has won an $80m (£50.2m) contract in the Dominican Republic.
Under a two-year deal, the Glasgow firm will provide 100MW of gas-fuelled power for state-controlled electrical distribution company Edenorte.
The move follows a rapid rise in demand for electricity in the country, which has affected national grid stability.
The announcement came as Aggreko reported more than 20% underlying revenue growth in the first quarter.
Celso Marranzini, vice president of Edenorte owner CDEEE, said the agreement with Aggreko was "part of the short-term solution to the energy situation that the country has suffered for more than 40 years".
The Edenorte deal brings Aggreko's order intake for international power projects so far this year to 450MW.
In an interim management statement, the company said the performance of its Local Business division this year would depend upon trading in the summer months, but the current outlook was favourable with a contract for the London Olympics expected to be worth about £50m.
Aggreko also announced it expected to conclude the £140m purchase of South American temporary power solutions firm Poit Energia sooner than anticipated.
The firm said good progress had been made in meeting conditions and the transaction should be completed this month.
Poit Energia was founded in 1999 and operates in Brazil, Chile, Argentina and Peru. In 2011, its revenues were £46m.