New products delay costs Tesco £40m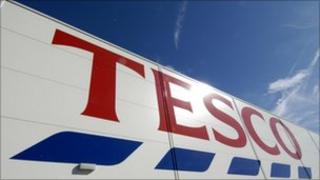 Technical problems which forced Tesco Bank to delay the introduction of new products cost the business £40m last year, it has said.
The Edinburgh-based bank deferred marketing mortgages and other products until this year following computer glitches.
It said the extension meant the bank had to absorb double running costs.
Tesco also said a new infrastructure and systems build was nearing completion.
Tesco Bank offers insurance, credit cards and savings products and has about 6.5 million customers.
It has still to launch its current account as it works towards "offering a full-service bank for Tesco customers" .
In its preliminary results statement for 2011-12, Tesco reported underlying profit at the bank was up 29% to £203m.
It also said motor and household insurance, savings accounts and loans had now been migrated successfully onto new platforms, with credit cards scheduled to follow "shortly".
'Important milestone'
Tesco Bank said: "Having taken the decision to slow down the introduction of new products until we have settled in the new bank team, processes and systems, following some technical issues last summer, this is an important milestone which positions the bank well for future growth.
"This decision to delay the timing of the completion of migration and the launch of new products had implications for the financial performance of the bank in 2011-12."
It added: "Specifically, the focus on the completion meant that active marketing for existing and new products, including the launch of mortgages, were deferred until 2012.
"It also meant a temporary extension of the period during which the bank absorbs double running costs.
"These issues impacted total trading profit during the year by around £40m but their effects will begin to reduce, as planned, in the new financial year."
Total revenue for the bank increased by 13.6% last year to just over £1bn, driven by a good performance in the insurance business.
Customer account numbers grew by 2% in the UK. Tesco said that had been driven mainly by strong growth in Tesco credit cards, where spend grew by 11% and the bank's market share of transactions increased to 12%.
Savings balances increased by about £330m, or 7%.