City Building among Scots firms scooping Queen's Award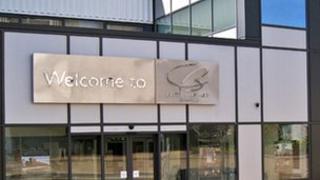 A council-owned building firm is one of 16 Scottish companies to have won a Queen's Award for enterprise.
City Building in Glasgow is the only Scottish winner of the eight UK firms recognised for sustainable development.
The awards - in recognition of exports, innovation or environmental achievements - are announced each year on the Queen's birthday.
There are 209 winners this year, including well-known names such as Nissan, B&Q and Marks and Spencer.
In Scotland, the oil and gas sector does well, winning six out of 13 export awards.
Also recognised for overseas sales growth is Bridge of Weir Leather, for the fourth time. It sells upholstery to luxury car makers.
Two small firms in Angus get the export award, Mackays, the Arbroath jam-maker, and J&D Wilkie of Kirriemuir, which makes bullet-proof vests. So does Glencairn Crystal, a previous award winner in East Kilbride.
An innovation award goes to Linn Products, a specialist in digital music systems based in Eaglesham, East Renfrewshire, and another to Alba Ultrasound of Glasgow, which is a world leader in underwater sound technology.
Glasgow's City Building is recognised for its range of trainees, including disabled people at the Royal Strathclyde Blindcraft, and its Women into Construction programme. It also emphasises energy efficient construction methods.
John Foley, managing director of City Building, said: "These awards are the pinnacle of achievement for any UK business.
"As one of Scotland's largest construction firms, we have always placed great emphasis on our unique social ethos, which is vital to our success.
"City Building engages directly with the community to ensure all our work leaves a lasting legacy for local residents. We deliver green solutions to customers, and we have cut our own carbon footprint by more than a quarter since 2007."
The full list of Scottish winners:
Queen's Award for International Trade
Balmoral Comtec, Aberdeen: oil and gas buoyancy and insulation
Barrie & Hibbert, Edinburgh: risk management modelling for the finance sector
Bridge of Weir Leather, Renfrewshire
Brinker Technology, Aberdeen: solutions to oil well leaks
Downhole Products, Aberdeen: oil and gas services
Edinburgh Instruments, Livingston: instrumentation, lasers and gas sensors
Gaia Earth Sciences, Elgin: oil well logging
Glencairn Crystal Studio, East Kilbride
J&D Wilkie, Kirriemuir: specialist fabrics
Mackays, Arbroath: jam and sauce maker
Skyscanner, Edinburgh: online travel portal
Strategic Procurement, Aberdeen: oil and gas services
Innovation Award
Alba Ultrasound, Glasgow: underwater transducers
Linn Products, Eaglesham: digital hi-fi
White House Products, Port Glasgow: hydraulic pumps and motors
Sustainable Development Award