Scotmid reports sharp fall in profits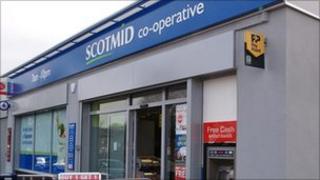 Retail chain Scotmid has reported a sharp fall in full-year profits, despite an improved performance in the second half of 2011.
The co-operative group said profits fell from £9.1m to £6.5m in the face of "significant challenges" posed by the economic downturn.
Turnover rose by 13% to £427m, following Scotmid's acquisition of convenience store chain Botterills.
Scotmid runs more than 190 food stores and more than 140 Semichem outlets.
It also has seven The Fragrance House stores and seven funeral branches.
Edinburgh-based Scotmid's core markets are in Scotland, Northern Ireland and the North of England.
The company's chief executive John Brodie said the group's food convenience retail business faced a challenging year as consumers cut back on both food and non-food spending.
Mr Brodie said: "This has been another solid performance from Scotmid in the face of market pressures on sales and margins in our retail businesses, coupled with the impact of a further increase in VAT and the additional cost of national insurance and carbon tax."
Mr Brodie added a "real highlight" of the year was the successful integration of Botterills.
By the end of October last year, 49 stores had been converted to the Scotmid fascia, systems and range.