Superglass raises 'Green Deal' concerns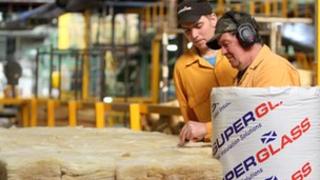 Insulation company Superglass Holdings has warned future trading could be hit by UK government plans to improve the energy efficiency of homes.
Ministers intend to move from a scheme which gives grants for home insulation to a new mechanism which eliminates the need for householders to pay upfront for energy efficiency measures.
The move to the new 'Green Deal' is due before the end of this year.
But Superglass said there was uncertainty over how it would operate.
The Stirling-based company raised its concerns as it reported it had completed a refinancing package at the end of last year after suffering financial difficulties.
Nearly 190 jobs at the company were safeguarded after the firm raised almost £8m and agreed to reduce its debt.
In its interim results for the six months to the end of February, it reported revenue was up 14% to £17.2m.
Superglass said recent sales activity related to the current Carbon Emissions Reduction Target Scheme (CERT) - which gives grants to households insulating their homes - was encouraging, but pointed out the programme was due to expire at the end of 2012.
It added: "Thereafter, as noted above, the impact of Green Deal and its effect on Superglass' business remains very difficult to predict at this time.
"There is some encouragement to be drawn from recent government announcements but we believe more initiatives are needed to ensure a smooth transition from CERT to Green Deal and, in the absence of such further initiatives, future trading could be adversely impacted."
Turnaround
In reporting the company's latest set of results, chairman John Colley said Superglass was making progress in its turnaround.
He said: "It has completed its refinancing and is on the way to delivering the capital investment programme that was at the heart of the fundraising.
"It is seeing the benefit of increased volumes of CERT-related activity and has been able to sustain price increases in the market.
"Tight control continues to be exercised over costs and working capital. However market conditions remain difficult.
"There is uncertainty over how the UK government's flagship environmental policy Green Deal will operate and Superglass remains a company in transition."