Cash gap at Craig Whyte's broker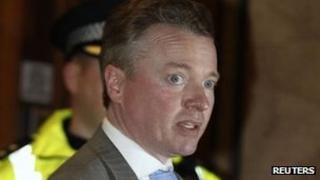 The stockbroker where Rangers chairman Craig Whyte was company secretary is being wound up with a cash shortfall of £3.4m.
Mr Whyte left the board of Pritchard Stockbroker, based in Bournemouth, at the time Rangers was placed in administration.
His main finance firm, Liberty Capital, is thought to have provided £2m in a credit facility for Pritchard's.
But efforts to call on this to meet the cash shortfall have come to nothing.
Pritchard's was placed in a special category of administration for finance firms by the Financial Services Authority (FSA) on 10 February, four days before Rangers was placed in administration.
The financial regulator said the stockbroker had failed to protect client funds, and had used them for its own expenses.
A statement by administrators Mazar's said there were client claims against Pritchard's of £27.1m, and that could rise.
But it added only £23.7m was available.
The insolvency accountants are in touch with the managers of the Financial Services Compensation Scheme to ensure they know about the case.
Liberty Capital
The statement of the administrators' activities since 10 February also suggested that Craig Whyte's main finance company, Liberty Capital, which is based in the British Virgin Islands, provided a £2m funding facility.
The statement said they had been told this by Pritchard's directors, but the special administrators had been unable to find any documents that prove that.
Mazar's added: "A request was made by the FSA for the company to call the facility to meet the company's liquidity gap. However, no funds were forthcoming."
The statement is a sharp increase in the amount of money involved in Pritchard's administration, as well as in the number of clients.
In February, Pritchard's said 6,400 clients could be affected by the administration, but that has risen to 11,100.