Scottish new cars sales outperform rest of UK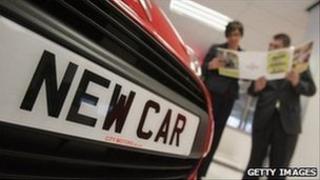 New car registrations in Scotland outperformed the rest of the UK in the first four months of the year, according to industry figures.
Almost 61,700 vehicles were registered north of the border between January and April - up year-on-year by more than 5.5%.
That compared with an increase of just over 1% for the rest of the country.
In April, Scotland recorded a year-on-year rise of 4.8% compared to a 3.19% increase for the remainder of the UK.
The figures were compiled by the Society of Motor Manufacturers and Traders.
Last month, a total of 12,141 vehicles were registered in Scotland out of a UK total of more than 142,322.
The Highlands saw the biggest percentage increase in Scotland in the first four months of the year.
Registrations there rose by nearly 8%, followed by Strathclyde (7.2%) and Tayside (7%).
Dumfries and Galloway and Lothian were the only two areas to record slight falls.
Scottish Motor Trade Association (SMTA) chief executive Douglas Robertson said: "We are again pleased at the continuing upturn in new car registrations.
"This is the second consecutive month of increases and would suggest that there is an element of returning consumer confidence in the economy.
"There has been a growth in private demand over the last two months that is higher than was anticipated and we now look forward with slightly more confidence to the remainder of 2012."