Scottish unemployment 'expected to outstrip UK rate'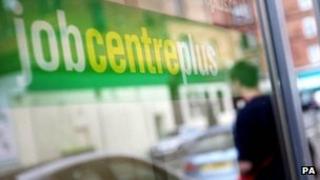 Scotland's unemployment rate could outstrip that of the UK this year and later hit its highest level since 1993, according to a study.
The Centre for Economics and Business Research (CEBR) estimated the labour market would be weaker than it was before the financial crisis.
It predicted unemployment would continue to rise in most parts of the UK over the next five years.
But it added areas most dependent on the public sector could be worst hit.
In Scotland, more than one in five workers is employed in the public sector, which has been facing severe cuts.
However, Scotland's Finance Secretary John Swinney said the country had a higher employment rate and lower unemployment.
In its report, the CEBR said: "The unemployment rate in the country is forecast to rise to above that of the UK average in 2012 and remain there until at least 2016, reaching 9.7% that year.
"The last time that the rate surpassed this was in 1993."
Jobless rate
Recent official figures showed unemployment in Scotland fell by 12,000 to 219,000 in the three months to February.
The Scottish jobless rate now stands at 8.1%, below the UK average of 8.3%.
The CEBR report found unemployment was likely to continue to rise over the next five years in every part of the UK except the South East and East of England, as well as London.
Responding to the report, Finance Secretary John Swinney said: "The fact is that the Scottish economy outperformed the UK as a whole in terms of GDP growth over the last two quarters of 2011 combined - and we have a higher employment rate, lower unemployment and lower economic inactivity in Scotland compared to the position south of the border.
"The most recent real figures show that Scotland's unemployment level fell by 12,000 over the three-month period December-February 2012 - the biggest fall in unemployment in Scotland for over a year."