Entrepreneur Sir Ray Tindle ups Johnston Press stake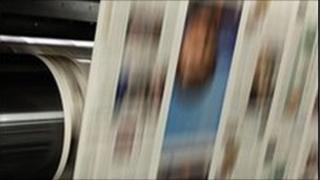 One of Britain's leading local newspaper entrepreneurs has invested heavily in Johnston Press, owner of The Scotsman and The Yorkshire Post.
Sir Ray Tindle, who owns more than 200 local papers, has upped his stake in the Edinburgh-based media group to 8%.
On Tuesday, he bought around 600,000 shares to add to tranches amassed over the past 18 months.
The share price, which stood at £4.62 five years ago, has been trading at less than 10p for the past year.
On Friday it was trading at 6p.
Sir Ray, based in Farnham, Surrey, and who has been in the newspaper industry for 65 years, told BBC Scotland he sees Johnston Press as "one of the best collections of newspapers in the country".
He praised the role of Freddie Johnston and other members of the family who used to run the Edinburgh firm.
"I know they've got problems, everyone knows that, but they will survive the problems and you will find that they've got good titles," said Sir Ray.
Asked if he was interested in taking over the group, which has a market capitalisation of less than £40m, Sir Ray said "that would be wonderful, but not possible".
The latest audited industry figures show circulation at The Scotsman has fallen by nearly 10% over the past year to 38,000, while its sister paper, Scotland on Sunday, is down nearly 14% to 47,500.
Johnston Press's new chief executive, Ashley Highfield last month set out plans to move the publishing business towards more online earnings, while moving most daily titles to weeklies.