Scottish hotel figures 'lag behind rest of UK'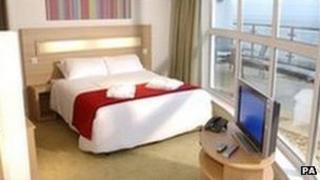 Scottish hotel revenues and occupancy rates are trailing the rest of the UK, according to a report.
Accountancy firm PKF's monthly hotel survey indicated occupancy in Scotland fell by 0.1% during March, while it rose in regional UK, England and Wales.
Rooms yield north of the border also fell by 0.7%, while other parts of the UK either recorded a smaller drop or an increase.
PKF said the figures showed the fragility of the Scottish hotel sector.
Aberdeen continued to outperform the rest of Scotland's cities with an increase in occupancy of 0.1% to 75.8%, while revenues rose there by 7.4% to £58.74.
Glasgow also fared well during March, with an increase in rooms yield of 4.6% to £45.99 despite a fall in occupancy of 1.9%.
Unusually, Edinburgh recorded a drop of 3.9% to 66.4%, while revenue fell by 8.9% to £43.66.
Inverness saw occupancy rates climb by 8.5% to 69.2%, but rooms yield fell by 0.4% to £24.96.
Alastair Rae, from PKF, said: "These figures reveal the fragility experienced in the Scottish hotel sector with falls in occupancy and rooms yield against the UK-wide trend of an increase in both.
"Occupancy is the lowest among the four UK regions whilst revenue, which is usually higher overall in Scotland, is now on a par with the rest of Britain."
He added: "It would be unwise to read too much into one month's figures but it is clear that the sector continues to face considerable instability, mirroring the uncertainties in the wider economy.
"There is no reason to assume that 2012 will be a great year for Scottish hotels at this stage."
PKF's hotel trends surveys have been published since the early 1970s and feature a broad range of hotels in the 3 and 4 star categories.