Jobs rescued as baker Mathiesons Foods collapses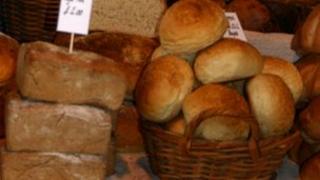 More than 240 jobs have been saved at troubled Mathiesons Foods after several of its shops were sold to a firm owned by its existing majority shareholder.
Administrators KPMG were called in on Friday when the wholesale and retail baker suffered financial difficulties.
Eight shops have been sold to Pemberton Capital-owned Prestige Bakeries but 20 other outlets have closed with the loss of 84 jobs.
Larbert-based Mathiesons has operated shops mainly in central Scotland.
Pemberton Capital said it had restructured the company in a deal which would safeguard the future of the 140-year-old business.
It added that new funding and management had been put in place to deliver future growth plans.
The restructuring will see the company concentrate on growing its supermarket business, which supplies a variety of bread, cake and chilled products to the major UK high street food retailers.
Mathiesons Foods was formed following the administration of Mathiesons Bakeries Limited in 2010.
The company has sold its products wholesale to various major supermarket chains as well as directly to the public.
It called in administrators after incurring losses as a result of difficult trading conditions.
'Positive outcome'
Pemberton Capital, which invests in niche companies in the small and medium-sized enterprise sector, will retain its majority shareholding and the transaction will see the transfer of operations to the new ownership.
Blair Nimmo, from KPMG, said: "The early sale of the business is a positive outcome from what has been a difficult period for the company and its staff.
"The business was in a severe degree of distress but the deal represents the best outcome for the company's creditors."
The administrators have also been appointed to the company's five subsidiaries - Firbank Holdings, Firbank Bakery, East End Bakery, James Allan (Bakers) Ltd and J. Allan (Bakers) Ltd. These companies are either dormant or hold leasehold interests only.