Cloud computing firm Iomart riding high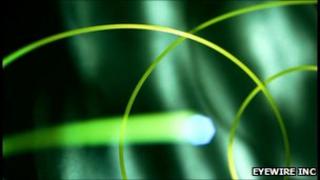 Hosting and cloud computing company Iomart has increased full-year profits after being boosted by a number of acquisitions.
The Glasgow-based firm made pre-tax profits of £5.7m in the year to 31 March, compared with £2.8m a year ago.
Over the period the group made three acquisitions and said the new parts were now fully integrated.
Iomart said the next buzz word was 'Big Data' - the size of information transmitted around the web.
The company's chief executive, Angus MacSween, said: "This dramatic growth in data means that vendors in this market will need to have the infrastructure in both storage and connectivity to cope with these ever-increasing demands.
"Iomart is investing in both storage infrastructure and in significantly improving its network capacity to maintain a leading position that will lead to further premium levels of service for our customers and prospects."
The group's revenues for the year increased by 33% to £33.5m.
Acquisitions
Iomart said activities at its Easyspace division "have been significantly increased" following the acquisitions of Liverpool domain name and hosting company Switch Media and Essex-based web hosting group Global Gold.
It reported its hosting division - which includes EQSN, the Glasgow-based business it acquired at the end of November - continued to perform well.
Mr MacSween said: "The fundamental shift to products and services being delivered over the web is changing the way companies organise their internet or 'cloud' infrastructure to ensure resilience, scalability, security and value for money."
He added: "As these services become ever more critical to customers, they are now doing far more diligence on the strength of their suppliers and those with a strong balance sheet who have achieved the scale that Iomart has are attracting more of the market than was the case three or four years ago."